Founders Forum Group and SVB Expand Partnership to Support Global Innovation Economy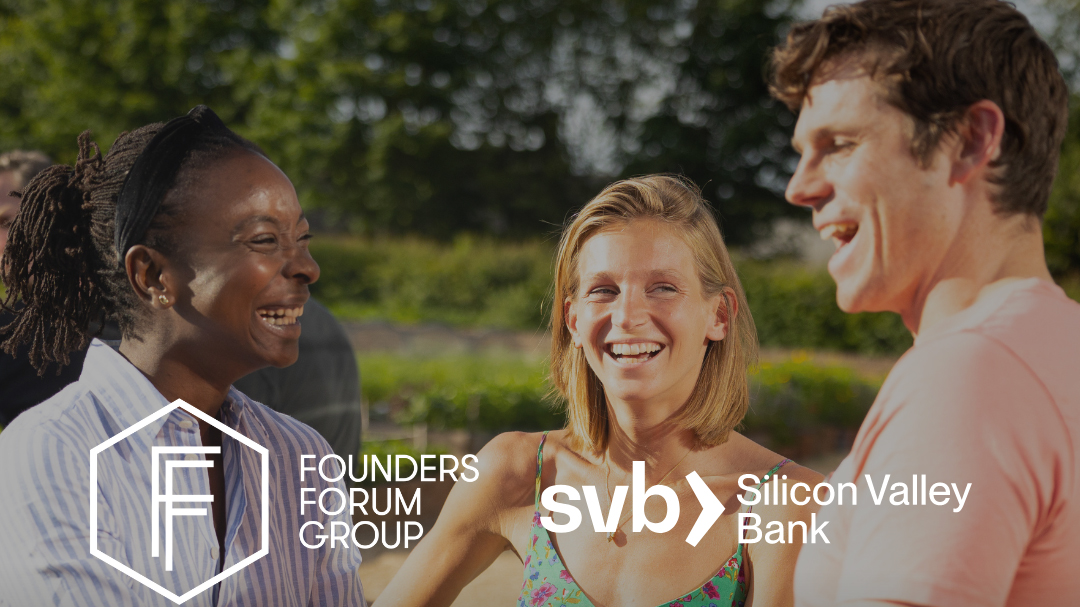 SErin Platts, CEO of ilicon Valley Bank UK, set to join Founders Forum Group board
London: November 10, 2022 – Founders Forum Group (FF Group), an events community and business group supporting entrepreneurs at every stage of their development, today announces that it has strengthened its relationship with SVB Financial Group (SVB), the financial partner of the innovation economy, through a new global partnership agreement.
SVB, the ultimate parent company of Silicon Valley Bank UK, has taken a stake in FF Erin Platts, CEO and Head of EMEA for the Group and Silicon Valley Bank UK, will join the FF Group Board of Directors, bringing her deep expertise in financing companies in the innovation economy and supporting UK leaders and Europeans in the global innovation economy.
In addition to this agreement, Silicon Valley Bank UK will be a leading partner of the flagship events of the Founders Forum. The enhanced partnership will see closer collaboration between the two organizations around the Founders Forum Events program globally, including forums in London, Berlin and New York.
Silicon Valley Bank UK and FF Group will develop and produce a variety of events and content to support entrepreneurs at every stage of growing their business through industry networking, education and thought leadership. Both Silicon Valley Bank UK and FF Group are focused on supporting the global innovation economy and will work together to fuel entrepreneurial growth, supporting leading innovation companies across a range of geographic markets and industry sectors. .
Carolyn Dawson, CEO of Founders Forum Group said: "SVB is a great brand with a growth strategy similar to ours; they are focused on nurturing the founders of the future, making them an ideal partner as we seek to expand our mission to help more founders succeed. SVB customers will have access to a range of FF Group services tailored to scaling founders and the large FF community will have access to SVB's services and its global network.
Brent Hoberman, co-founder and executive chairman of the Founders Forum Group said: "We welcome SVB as a new shareholder of the FF group. This partnership will allow us to continue to improve the quality and depth of our events each year and further expand our transatlantic reach. Additionally, we will look to launch more businesses in Europe and explore opportunities to do so with SVB. »
Erin Platts, CEO of Silicon Valley Bank UK and Head of EMEA said, "This exciting global partnership and co-ownership stake is an investment in our ongoing relationship with Founders Forum and a commitment to supporting the next generation of entrepreneurs, from early stage startups to scale-ups., large companies and investors. Our vision for the global innovation economy is aligned with the vision of the Founders Forum and we see it as a natural long-term partner in advancing innovation globally.
###
About the Founders Forum group
Founders Forum Group is an event community and business group support entrepreneurs at every stage of their journey. His Invitation-only forums bring together the world's most influential founders, investors, business leaders and government leaders to address momentous issues in iconic locations around the world.
Since 2019, Founders Forum has partnered with Informa Tech to celebrate the strength and diversity of UK tech across London Tech Week. The joint venture enables LTW enrich its impact with sector-based and diversity-focused events, including ClimateTech, Raising the Founders, EQL Elle, and HealthTech.
Fueled by the connections and insights forged at flagship group events, Founders Forum companies support the needs of today's founders through networking (To input), education (01 Founders and Frame), professional services (Founders Guardians and Founders Act), investment (Founders Factory and first minute capital) and philanthropy (The Entrepreneur Center and Commitment of the founders). In 2021, the group sells its innovation strategy consulting firm, Intelligence Foundersto global consulting, Accenture.
www.ff.co
For more information contact:
Emily Miller
Marketing Director
Founders Forum Group
[email protected]
Mobile: (+44) 0793 242 2765
About Silicon Valley Bank UK
Silicon Valley Bank UK Limited, the world's most innovative corporate and investor bank, provides commercial banking services, expertise and information to the technology, life sciences and healthcare, private equity and venture capital in the UK and EMEA. Silicon Valley Bank UK's commercial banking and lending services help meet the unique needs of its dynamic, innovative and fast-growing customers.Learn more: svb.com/en.
Silicon Valley Bank UK Limited is registered in England and Wales at Alphabeta, 14-18 Finsbury Square, London EC2A 1BR, United Kingdom (company number 12546585). Silicon Valley Bank UK Limited is authorized by the Prudential Regulation Authority and regulated by the Financial Conduct Authority and the Prudential Regulation Authority (firm reference number 543146).
© 2022 SVB Financial Group. All rights reserved. SVB, SVB FINANCIAL GROUP, SILICON VALLEY BANK and the chevron symbol are trademarks of SVB Financial Group, used as Licence. [SIVB-C]
Matt Gazley
Professional manager
Silicon Valley Bank United Kingdom
[email protected]
Mobile: (+44) 07833446870