Biden's first Asian tour is about building a front against arch-enemy China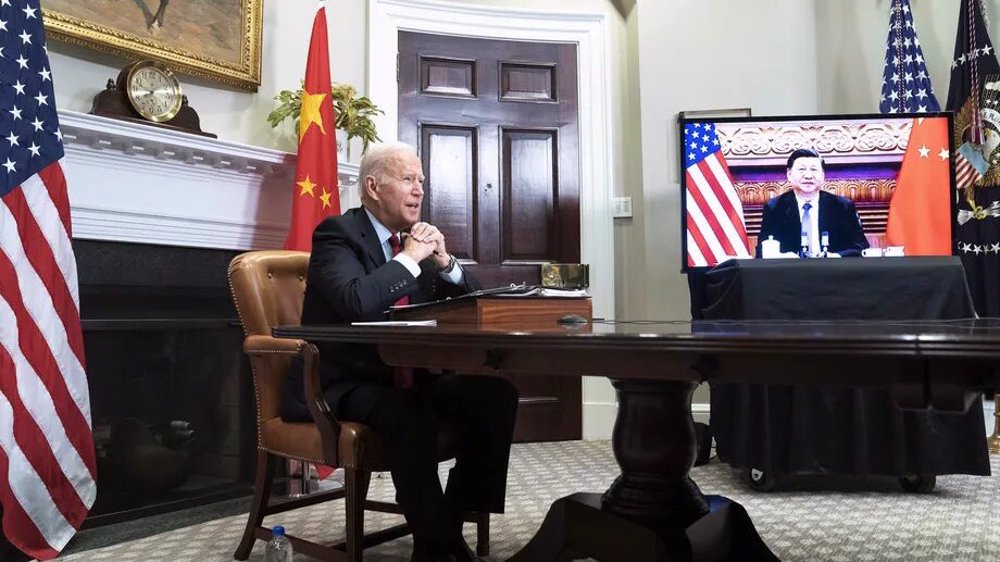 US President Joe Biden's first Asia tour since taking office early last year is to build a front against China as he prepares to establish a mega economic forum next week designed to curb the growing economic weight of the sworn enemy.
The high-profile tour, which kicked off in South Korea on Friday, is seen as a bold and adventurous move by Washington to confront China's growing economic power in the region in particular and the world in general.
His focus is largely evident as he will launch the US-led Indo-Pacific Economic Framework (IPEF), a mega 'economic arrangement', next week in the Japanese capital Tokyo, his second destination on his trip. five days in Asia. .
Besides the United States itself, the IPEF is expected to bring together India, Japan, South Korea, Australia, New Zealand, Malaysia, Singapore, Indonesia, Thailand, Vietnam and the Philippines as members. More members may be added later, according to reports.
On Wednesday, US National Security Adviser (NSA) Jake Sullivan, while confirming that Biden will launch the IEEP, described the so-called forum as "an ambitious new economic initiative for the region."
The IPEF is a "21st century economic arrangement, a new model designed to meet new economic challenges – from defining the rules of the digital economy, to ensuring safe and resilient supply chains, to managing energy transition, investment in clean and modern technologies, high-level infrastructure," he added.
What Biden's senior aide stressed was that the alliance would send a powerful message to China, America's sworn enemy.
"We believe this message will be heard everywhere. We believe it will be heard in Beijing," he said.
The development comes as the Biden administration tries to increase its footprint in Southeast Asia by restoring ties with countries in the region in a bid to form a military coalition against China, which has repeatedly said that Washington was extending militarism to regions far from its borders, as it tries to justify its military presence in the Southeast Asian region by making baseless allegations against Beijing.
China claims the entire South China Sea. The Philippines, Malaysia, two potential IPEF members, and Vietnam, as well as Brunei, have overlapping claims to parts of the sea.
The United States and its allies are siding with Beijing's rival suitors in maritime disputes in the South China Sea, while China has consistently warned the United States against military activity in the waters.
Moreover, Japan, another potential IPEF member, and China have for several years been locked into a territorial line on the small group of islands in the East China Sea, known as Senkaku in Japan and Diaoyu in China.
China maintains that it has indisputable sovereignty over the islands, but Japan considers them to be part of its territory. The United States sided with Japan.
Last year, US Secretary of State Antony Blinken summed up Washington's policy when he said "our relationship with China will be competitive when it should be, collaborative when it can be, and contradictory when it has to be".
Friday, India's online portal, The footprintciting what he called "high level sources", reported that Biden would extend to Indian Prime Minister Narendra Modi an invitation to join IPEF when they meet in Tokyo next week for the Quad Summit, or the Quadrilateral Security Dialogue, which is seen by Beijing as part of a US-led campaign to undermine China's interests.
The report adds that New Delhi and Washington reached an agreement last month when India's Union Finance Minister Nirmala Sitharaman visited the United States.
It was then agreed that while IPEF would require "high standards" in establishing and maintaining trade facilitation, supply chain resilience and infrastructure, it would nonetheless be a "strategic move." "targeting China.
On Wednesday, senior Chinese diplomats sharply denounced the United States and Japan, accusing them of ganging up on China and playing the Taiwan card.
China regards Chinese Taipei (Taiwan) as a breakaway province, claiming sovereignty over it. Under the "One China" policy, virtually all countries recognize this sovereignty. The island, however, has been self-governing since 1950.
The United States, despite claiming to abide by the "Once China" policy, has long courted Chinese Taipei and sold weapons to the self-governing island in a bid to piss off Beijing.
The unusually strong rhetoric from these diplomats reveals that Beijing is increasingly concerned about a growing encirclement effort led by Washington and Tokyo to rein in Beijing, some three months after Russia began a military operation in Ukraine.
"The Taiwan issue is the most important, sensitive and central issue in China-US relations. If the US side persists in playing the Taiwan card and continues down the wrong path, it will surely put the situation in grave danger," Yang Jiechi, Chinese President Xi Jinping's top foreign policy adviser, said in a call. phone call with Sullivan.
Yang also accused the Biden administration of failing to honor past commitments, particularly in Taiwan.
"If the US side persists in playing the Taiwan card and strays even further down the wrong path, it will surely put the situation in grave danger," he added, warning that Beijing would take "firm measures" to safeguard its sovereignty and security interests, and "the US side can rely on China to keep its promise.
Also on Wednesday, Chinese Foreign Minister Wang Yi had a heated exchange with his Japanese counterpart, Yoshimasa Hayashi, in a video call, lambasting Tokyo for what he called destabilizing bilateral relations with "negative moves on Taiwan and other issues involving China's core interests and major concerns.
China is angry with Japan for hosting the Quad Summit next week, which will also see the participation of Australian and Indian leaders. Beijing sees the Indo-Pacific strategic grouping as an attempt to form an "Asian NATO" targeting Beijing.
"What makes people pay attention and be vigilant is that even before the American leader embarks on his journey, the view that Japan and the United States are coming together to confront China is already endemic, creating a foul atmosphere," Wang said.